Vans available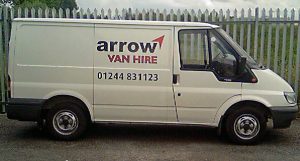 Short Wheel Base Transit Vans
Daily Rate £55
Weekend Rate £150
Weekly Rate (5 days) £220
Weekly Rate (7 days) £290
Van details:
Load area appr 8ft long, appr 5ft 8″wide , appr 5ft  high
Long Wheel Base Vans
Daily rate £70.00
Weekend rate £190.00
Weekly rate (5 days) £280.00
Weekly rate (7 days) £370.00
Van details:
Load area approx. 11ft long, width appr 5ft 8″ height appr 5ft 9″.
(Our LWB Transits are approx. 3m long in the load area. All are medium roof vans.)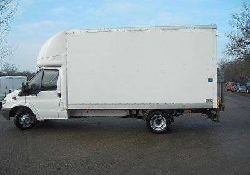 Long Wheel Base Luton Box Vans
Daily rate £8050
Weekend rate £230.00
Weekly rate (5 days) £340.00
Weekly rate (7 days) £450.00
Van details:
Load area appr 13'6 long plus over cab area of 3'6. Height appr 7ft 3″, width appr 6ft 6″
All of our Luton vans are extra long wheel base with a tail lift.
Notes
Daily rate means up to 24 hours running from either 9.00am or 5.30pm. Standard pick up times are shown below.  Pick up can be arranged for anytime during the working day but a day will only run until the next pick up/drop off time. For example pick up at 12 noon would be due back at 9am. Return at 12 noon the following day would mean two days hire.
Weekend rate means from 9am Friday to 9.00am Monday.
Weekly rate means either 5 or 7 days, as specified.
Van collection times are 9-10am or 5-5.30pm Mon to Fri.  Saturday between 9-11 am or 5-5.30pm (for Sunday hire by arrangement only).  If you have not arrived within 2 hours of your agreed collection time and have not made contact with us, we will assume you no longer require the van and your booking will be cancelled with no refund.
All prices quoted include Fully Comprehensive Insurance (subject to Excess)and Breakdown Cover (UK Mainland only). Prices correct as at 1 April 2022 – may be subject to change.